Wall decorations are probably the ones with the most powerful impact on any interior's climate. Unfortunately, they are often given up on, due to the fact that it needs to be hanged, and this means, of course, drilling. However, there are many ways to get around this process. Find out how to hang a picture on the wall without drilling and give your room a special atmosphere.
Picture on the wall without drilling - how to do it?
When deciding on wall decorations in an interior, you do not need to drill holes in the wall. Other ways available on the market allow you to hang pictures or posters without the need for a hammer or drill. The advantage of exploring them is that you can almost instantly change the arrangement of pictures on the walls at any time. These solutions allow you to quickly hang pictures, and in case of a mistake, you can make harmless adjustments of their location. Thanks to this, you can create a well-thought-out and perfect picture gallery, in which the most important thing is the right height and symmetry. If you are wondering how to hang a picture on the wall without drilling, be sure to check out our ideas!
Self-adhesive Velcro
The first way to hang pictures on the wall without drilling is Velcro fasteners. They are most often available in the form of a tape. One side has Velcro, the other side is self-adhesive. The self-adhesive side is attached to the wall and the other part to the picture. The next step is to connect the Velcro stripes together. The advantage is undoubtedly quick installation, easy removal and firm fixing. In addition, Velcro does not damage the wall - it does not leave any traces on it after removal. This type of solution works primarily for light paintings or posters.
Glue
Glue is one of the most obvious solutions. It allows you to permanently attach decorations to almost any surface. High-quality adhesives are resistant to water and high temperature, so you can easily use them in rooms with high humidity, e.g. in the kitchen or bathroom.
Thanks to that, you can easily attach much heavier paintings or posters to the wall surface. There are products on the market that can hold a weight of up to 35 kg. Adhesives are characterized by excellent adhesion and flexibility. However, when deciding on this type of solution, one should bear in mind that removing the glue may be problematic.
Self-adhesive hooks
Self-adhesive hooks are probably the cheapest way to hang a picture. The product is made of lightweight plastic with a layer of self-adhesive glue. Its installation consists in removing the protective strip from the self-adhesive layer and pressing it to the surface.
When deciding to buy this type of accessories, make sure you know what is the weight of features you are about to hang. Hooks made of lightweight plastic can easily handle light decorations, but for heavier paintings, it is better to choose metal hooks, which additionally have a special lock to prevent dropping.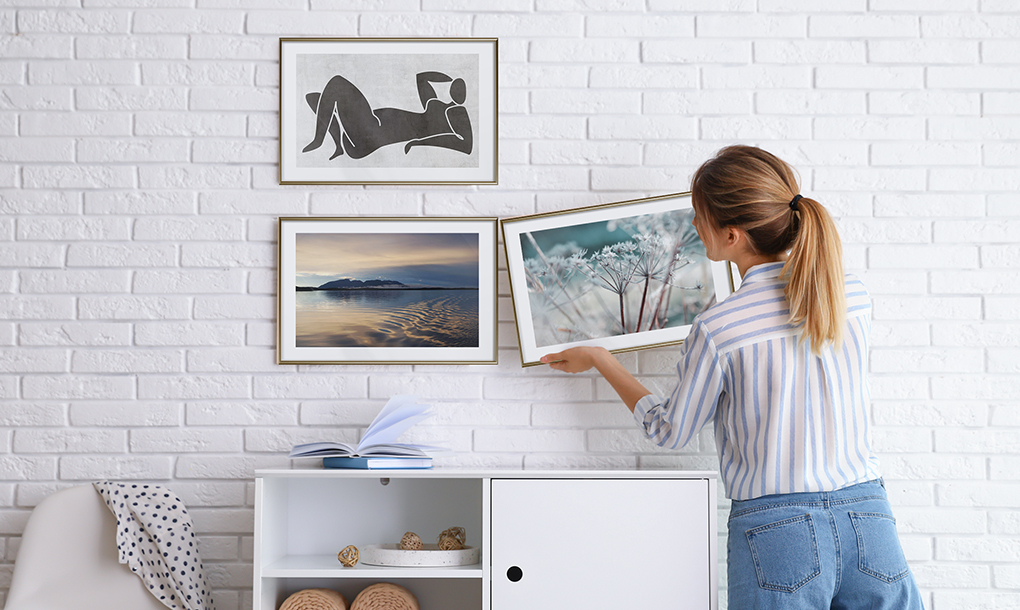 Magnetic tapes
The advantage of the magnetic tape is its durability and flexibility. You can easily adjust its length and width. It works well on both flat and irregular surfaces. Only metal elements can be attached to the magnetic tape, so you decide to choose this type of product is worth taking care of the metal picture frame. The magnetic tape will also work well if you want to organize your tools in the garage or small metal elements in the kitchen.
Sticky tapes
There is also a wide selection of sticky tapes available on the market for mounting various types of elements. You can choose single-sided and double-sided tapes. They are recommended for light objects, so they will be perfect for paintings or posters without frames. You can easily attach paper decorations to almost any surface. When choosing, however, you should pay attention to the width and, above all, the purpose of the tape.
An interesting solution is the use of washi tape. These are Japanese decorative tapes made of rice paper. A large selection allows you to match it to your interior design. They are perfect for attaching pictures or posters in kids' room.
Fixing patches
Another way to hang a picture without drilling is to use special fixing patches. It is a great alternative to nails or screws. These patches allow quick mounting without destroying the wall. Removing them is also not a problem - they do not leave any traces. The patches can be used on walls, mirrors or tiles. They are most often available in a transparent version, which makes them virtually invisible.
Waterproof plasters
Waterproof patches are perfect anywhere there is a chance of contact with water or moisture. Thanks to waterproof patches, you can easily hang a picture in the kitchen or bathroom. The patches are characterized by a flexible structure that allows them to be perfectly adapted to the surface of the wall or tiles. They are also durable and solid. The patches are able to hold items up to 2 kg.
These ways allow you to quickly and easily hang decorations on the walls. However, there are many more ideas for displaying paintings or posters in the interior. If you want to learn more about it, be sure to read our article: How to display pictures and posters without destroying the wall?. There you will find even more ways to effectively skip the drilling stage and enhance your interior with original decorations.